Awardee: Theresa Rose and David Guinn – Round 2
Impact Statement: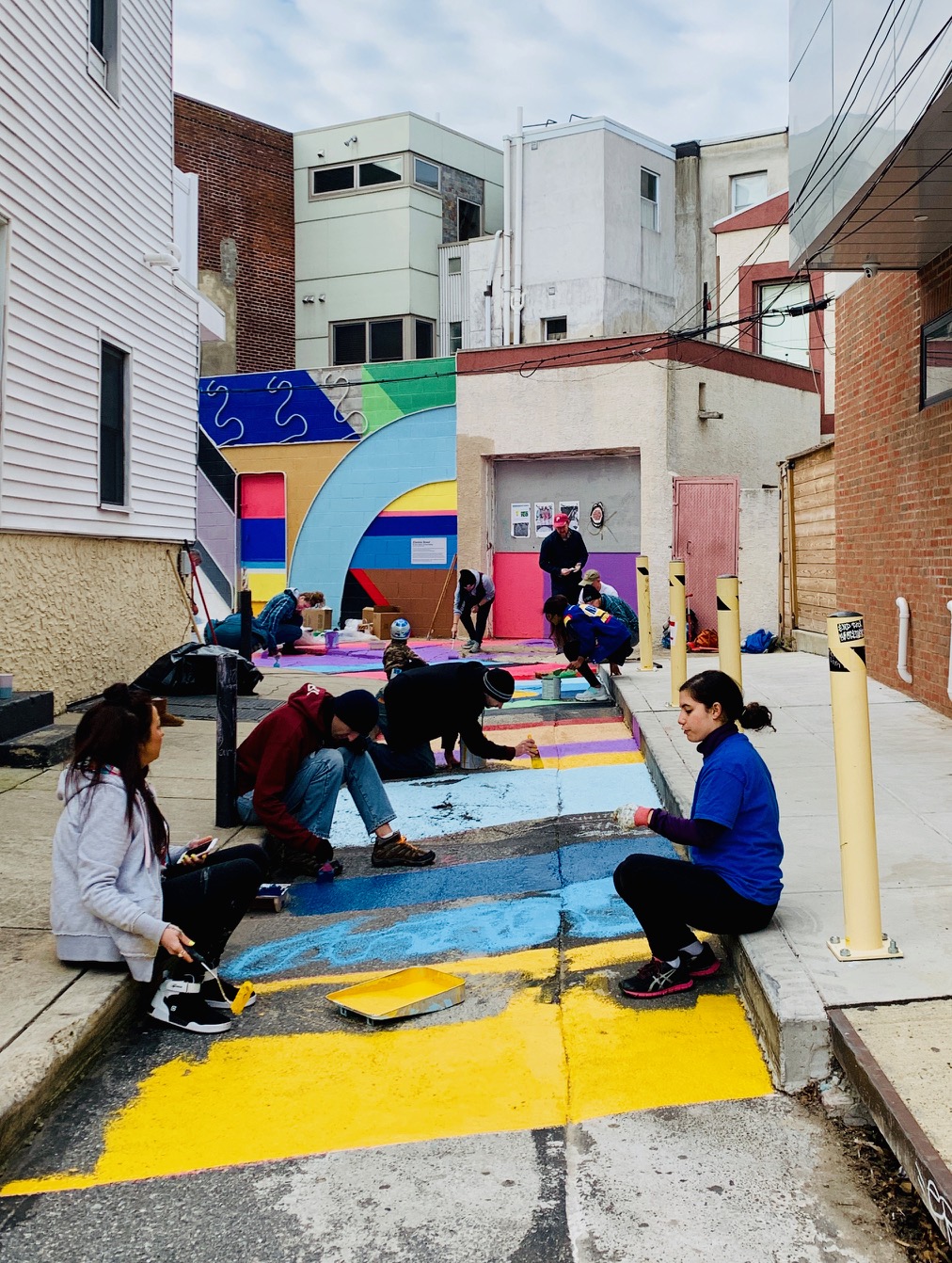 Celebrating Capitolo Communities
As a neighborhood, city, and nation we are emerging from the trauma of isolation during the Pandemic and the divisiveness of our polarized politics. Healing is urgently needed. South Percy Street Arts Walk can represent the potential of Philadelphia, where bridges of trust are built through experiencing our stories together, rather than in siloed, separate spaces.
Energy around the South Percy Street Arts Walk is high, and it has received attention from press, artists and pedestrian traffic alike. Percy Street serves as a pedestrian connector between the southern portion of the 9th Street Market and East Passyunk Avenue Shopping.
There is an opportunity to further catalyze this momentum and turn the neglected alley into an arts destination; a place for communities to come together.
We want to honor three communities that live and play in our neighborhood, creating meaningful intersections between community members in the shared space of the arts walk. We propose 3 murals in close proximity on Percy Street, culminating with a day-long event sharing the stories behind the murals and having fun. Our groups all overlap around the Capitolo Recreation Center, geographically located between the two business and tourist corridors and just around the corner from Percy Street. We want to highlight:
The Mexican American Community represented by Coach Luis and his Lobos Soccer League: A mural to show appreciation for all the volunteer time, energy and talent that he dedicates, year after year, to the boys and girls of the surrounding South Philadelphia neighborhoods. Likewise, the boys and girls he coaches would see that the city values Luis' efforts and themselves as community members.
The Chinese-American dancers at Capitolo Playground: Chinese women of various ages from 7- 90 dance a traditional Chinese exercise dance routine. Attached is an image. These women use public space to come together around health, culture and beauty.
The long established, Italian-American community, from which the name of the Rec Center is drawn. This community represents some of the iconic, traditional identity of Philadelphia, from cheesesteaks to soft pretzels, and the stories of an earlier period of immigration. Donnie Pizzi gave 35 years to Capitolo Rec Center and would be our link to this part of the culture of South Philadelphia.
Our project aims to bring these three geographically overlapping but often socially separate communities together on Percy Street for a culminating event sharing the stories behind each mural with food, music, and games for young and old. All too often, across the city and in our neighborhood, tensions between newer and older residents create friction and resentment. Participating in mural projects that honor each community and socializing in the surprisingly intimate outdoor space of the Percy Street Art Walk has the potential to forge connections, establish trust, and make our community stronger and healthier. Additionally, the Passyunk Square Civic Association is onboard as a consulting project partner. PSCA's mission aligns with the project values of creating meaningful intersections between community members.