Idea: 

"The Fourth Trimester," will use devised theater to heal people who have suffered traumatic births.


Primary artistic medium:

performance
Biography
Nikki Brake-Sillá is a playwright and filmmaker. She is the Founder of DrAW (Dramatists At War) and an inaugural member of Jouska PlayWorks. Nikki's full-length plays include ReWombed, (EST/Sloan Commission) TROUBLE OF THE WORLD, Finalist (Terrance McNally Award, Lark Apothetae, Space on Ryder – Family Residency), Semi-Finalist (Princess Grace, O'Neill, Bay Area Playwrights Festival), DEAR ANN, Residency (The Mitten Lab), Semi-Finalist (Premiere Stages), IN DEFENSE OF OURSELVES, (MadCow Women's Voices Play Festival), GTFOH Finalist (Space on Ryder – Family Residency), Orlando Shakes Play Fest, SAY IT AIN'T SO (Philadelphia Fringe Festival).
Her full-length narrative, A WEATHERING was a Semi-Finalist (Middlebury Scriptlab) and Second Round Selection (Sundance Narrative Lab). L&D, a one-hour pilot was a 2021 Semi-Finalist (The Orchard Project and Middlebury TV Scriptlab). A.M.A. – AGAINST MEDICAL ADVICE (monologue) selected for Annenberg's Screening Scholarship Media Festival 2021 and Semi-Finalist (The Black Motherhood & Parent New Play Festival). Nikki's film credits include FAST TIMES AT WEST PHILLY HIGH (director, Debbie Morton; Frontline), for which she was the Associate Producer, RUN GRANNY RUN (director, Marlo Poras; HBO Films), for which she was the Assistant Editor.
She was the production manager for UNFEVER (director, Andrea Weiss), and a segment producer for Emmy-winning director Greta Schiller's NO DINOSAURS IN HEAVEN. She has been commissioned by Revolution Shakespeare, EST/Sloan, Elevate Theatre, RECPhilly, and Philadelphia Women's Theater.
Nikki has received funding from Black Spatial Relics, The Sachs Foundation, The Puffin Foundation, Jody Falco and Jeffrey Steinman, The Lark, the Princess Grace Foundation, the Leeway Foundation, and the Regional Center for Women Artists.
Nikki received her B.A. from the University of Pennsylvania and her M.F.A. from the City College of New York. She is a proud member of the Dramatists Guild and Directors Gathering.
Project Description
"The Fourth Trimester" will address the mortality crisis affects Black child bearers who die three to four times the rate of their white counterparts (CDC) and at a rate of 2.7 times more likely in Pennsylvania (PA DOH).
The intent is to have a six-week class where individuals will devise monologues, patterned after "A.M.A. – Against Medical Advice," where each participant will be able to create their own monologue around their care and reflect on their journey as they move through healing.
Either the participants or actors will perform the works at the end of the program and will leave with a set of valuable tools to help them on their fourth trimester journey.
"The Fourth Trimester" are for parents who have been on the receiving end of racism and bias during a time they should be exalted for bringing a new life into the world. This is for people to use as a tool to find their voice during a time that is fraught with unknowns and exhaustion. This work is also for all the practitioners who are the gatekeepers of the child bearers' load. They are the foundation on which the postpartum journey begins.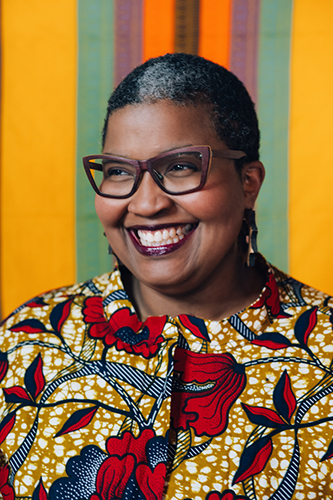 View video